OUR ACCOMMODATION SOLUTIONS
PERSONALIZED KITESURF HOLIDAYS
CREATE YOUR TAILOR-MADE KITESURF HOLIDAY
Are you planning your surfing holiday in Fuerteventura but you cannot stay a whole week or are you thinking of stopping by for a longer period?
All our "Surf camp" packages are editable, contact us and we will organize your surfing holiday in Fuerteventura tailored for you, adapting it to your needs.
Do you want to know our special offers for groups and Universities Surf Clubs?
Surf House
Our cheapest offer particularly suitable for solo travelers or groups of friends who want to share their surfing holiday with other people from all over Europe
You will stay in a villa with private pool, terrace and patio dedicated to sunbathing and you will have a fully equipped kitchen to cook independently.
The villa consists of 4 shared bedrooms and each room accommodates a maximum of 4 people.
There are two bathrooms.
The villa is located in a quiet area but only 300 meters from the El Campanario shopping center, where you will find bars, restaurants, shops and a large supermarket.
Punta Elena beach, a famous surf spot, is 500 meters away.
SHARED ROOM WITH 4 BEDS
TOTAL PER PERSON: from € 260,00
Our most complete offer designed with different types of holiday makers in mind: solo travelers, couples and groups of friends. You can choose between shared rooms, double rooms with private bathroom, triple rooms and quadruple rooms.
The Surf Hostel is located in the central area of Corralejo, close to our school and all types of services (bus stop, supermarket, shopping center, bars, restaurants …) offers different areas for relaxation after a day of kitesurfing and the beach
There is a swimming pool open all year round, barbecue area and various terraces overlooking the island of Lobos. There is a lounge with internet, video, music and two fully equipped kitchens. In our surf hostel you will find an international atmosphere as well as kind and helpful staff members.
We organize barbecues and dinners every week. Breakfast is included in every type of room chosen. It is the optimal solution for those who want to feel at home and want to meet people from all over Europe.
SHARED ROOM WITH 8 BEDS
TOTAL PER PERSON: from € 315,00
SHARED ROOM WITH 4 BEDS
TOTAL PER PERSON: from € 330,00
DOUBLE PRIVATE ROOM WITH PRIVATE BATHROOM
TOTAL PER PERSON: from € 380,00
TRIPLE ROOM
TOTAL PER PERSON: from € 335,00
FAMILY ROOM – FOUR BED ROOM
TOTAL PER PERSON: from € 335,00
APARTMENT COMPLEX WITH SWIMMING POOL "BASIC"
This package is suitable for those seeking greater privacy without sacrificing autonomy, suitable perfectly for couples, families and/or groups of friends.
The apartment complex is located just 300 meters from Corralejo beach, the complex offers bright apartments with a terrace and some offer views of the outdoor swimming pool.
The one-bedroom apartments are simply furnished and have a seating area with sofa and TV, a kitchenette equipped with a microwave, refrigerator, coffee machine and electric kettle
For families or groups of friends it will be possible to add up to a maximum of 3 extra beds in the large lounge.
You will find several supermarkets, bars and restaurants just 100 meters away from the residence. The tourist port of Corralejo, from where ferries leave for Lanzarote, is 1.5 km away. La Oliva is 15 km from the complex and Puerto del Rosario and Fuerteventura Airport can be reached in 40 minutes by car.
One bedroom apartment in complex with swimming pool " BASIC"
TOTAL PER PERSON (min. 2 person): from € 350,00
APARTMENT COMPLEX WITH SWIMMING POOL "PLUS"
The tourist complex has an area of 100,000 m2 and is located 38 km from the airport, 1,700 meters from the Grandes Playas de Corralejo, 2,500 meters from the Las Dunas Natural Park.
It has various swimming pools, a beautiful garden with native plants, sunbathing patio, restaurant, pool bar and everything you need to have an unforgettable holiday.
The apartment consists of a lounge with open plan kitchenette, a bedroom and bathroom. It is equipped with everything needed for your staying and for cooking independently, each apartment can accommodate up to a maximum of 4 people (2 beds on the sofa bed).
APARTMENT COMPLEX WITH SWIMMING POOL "PLUS"
TOTAL PER PERSON (min. 2 person): from € 430,00
APARTMENT IN COMPLEX WITH SWIMMING POOL AND DIRECT ACCESS TO THE BEACH
The ideal starting point to enjoy dream beaches and explore the villages, culture and natural wonders offered by the north of the island of Fuerteventura
The apartments boast one of the best locations and have direct access to the beach and spectacular views of the island of Lobos and Lanzarote. They are also just 200 meters from the city center to enjoy the wide gastronomic offer, leisure, shopping areas and supermarkets.
This option invites you to dream with the sound of the sea as a background and to dip your feet in the sand as soon as you wake up.
The complex offers a main outdoor swimming pool next to another small children's pool, inside a large patio area that allows our visitors to relax while sunbathing
The apartments are distributed in three different areas. A first area of 18 apartments, all overlooking the pool, duplex type. The ground floor has a kitchen-living room, bathroom and terrace. The upper floor has a full bathroom and a bedroom. They can accommodate a maximum of 3 adults.
A second area of five apartments with internal view and five others with sea view also duplex type with a ground floor offering a living room-kitchen, bathroom and terrace. Upstairs there is a full bathroom and bedroom with balcony.
The third area consists of nine 2-bedroom apartments located in a two-story building with two apartments on the ground floor and eight on the top floor. Each offers a kitchen-living room and a bathroom. Some with an internal patio or a large terrace, but all with splendid views over the bay of Corralejo and with the island of Lobos and Lanzarote as a backdrop for the landscape. They can accommodate a maximum of 5 adults.
All apartments have been recently renovated (2017) with a beautiful decoration consisting of spectacular images of the island and with modern furniture, which brings a more modern style. The accommodation includes a kitchen with double stove, microwave, refrigerator and toaster, boiler, dishes and other basic elements of the kitchen. In addition, there is a safe, hairdryer in the bathroom, fan, 27-inch flat-screen TV in the lounge and free Wi-Fi.
Cleaning is done every 3 days and includes change of sheets and towels.
ONE BEDROOM APARTMENT WITH POOL VIEW
7 nights in private apartment in residence with direct access to the beach and pool view
5 days course of  surf course for BEGINNERS
TOTAL PER PERSON (min. 2 person): from € 470,00
TWO BEDROOMS APARTMENT WITH VIEW OF CORRALEJO BAY
7 nights in a two bedroom apartment in a residence with direct access to the beach and views of the Corralejo bay
5 days course of  surf course for BEGINNERS
TOTAL PER PERSON (min. per person): from € 390,00
Modern, welcoming and bright villa. The garden is equipped with ideal areas for relaxing, a synthetic grass area and a wooden pergola for practicing yoga. The free wifi service is included. The Surf & Yoga House is located in the northern part of the island, in a small surf village called Lajares.
The villa is only ten / fifteen minutes by car from the most beautiful beaches. There is a bus stop nearby just five / ten minutes walk from the villa. The bus connects Lajares to Corralejo (20 minutes) and Cotillo (15 minutes) where there are wonderful beaches
Near the house there are restaurants, bars, shops, supermarkets all within a few minutes walk and wonderful paths for cycling or walking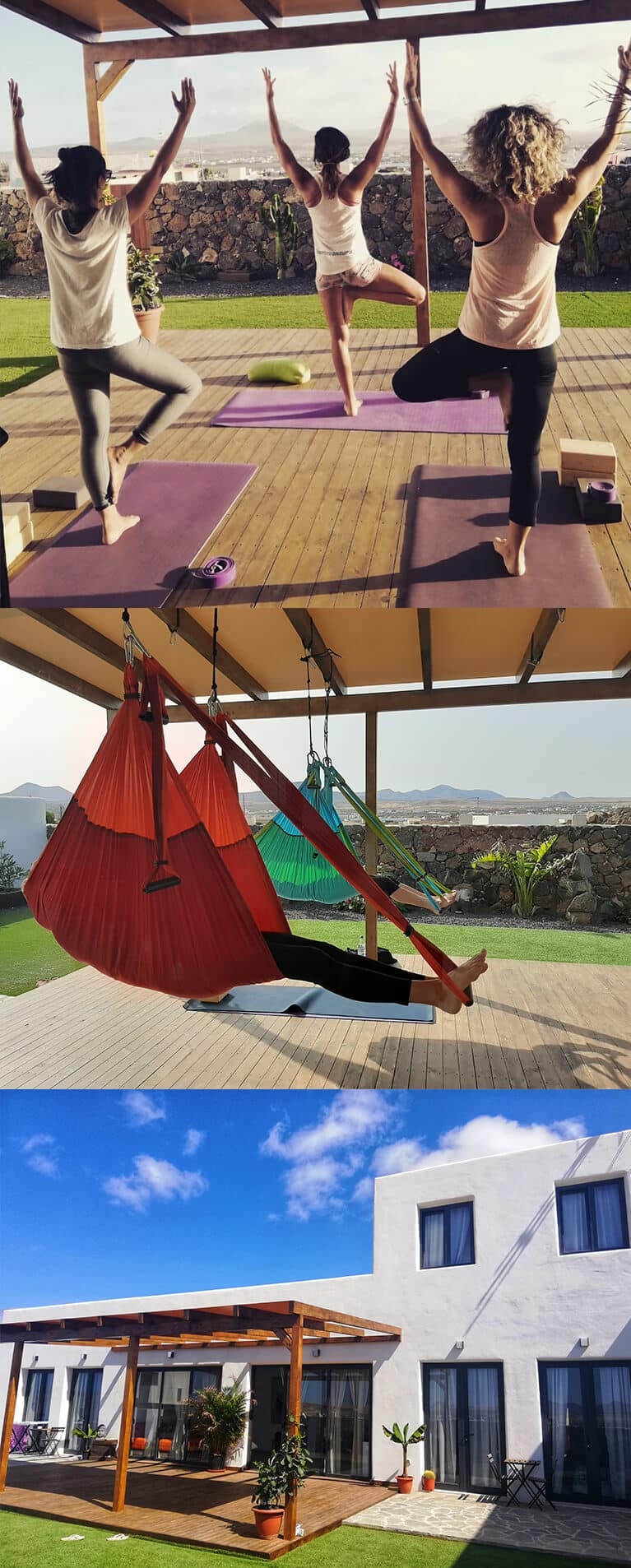 The property has 4 bedrooms and an independent studio
The rooms have comfortable beds, some with a double bed and others with single beds, which can be joined together at the request of the guests.
Each bedroom has its own bathroom, some inside and others right in front of the rooms. Towels and sheets are included.
PITTA Room – A cozy comfortable room with 2 single beds, which can be joined at the request of guests. The bedroom has a private bathroom with shower. Very bright overlooking the garden
KAPHA room – With 1 double bed. The accommodation has a bathroom with shower right in front of the room. Very bright room overlooking the garden
Studio AYU – On the upper floor and with external and independent access to the main structure. The studio has a kitchen, bathroom and a 70m terrace with sea and volcano views.
Here you will have the opportunity to practice yoga constantly by assimilating techniques that you can use later in everyday life. Ideal for those who want to improve their yoga or get close for the first time. Most yoga classes are based on Hatha style, although there are several yoga teachers every week, so you can experiment with different yoga styles.
We are a small structure, so the retreat and lessons are individual or with a maximum of 8/10 people.
YOGA- SURF- MASSAGES- HEALTH FOOD – RETREAT
1 anti-stress back massage (30 minutes)
1 Thai foot massage (60 minutes)
3 yoga classes (1.5 hours per session)
5 vegetarian dinners
5 surf lessons (4 hours per session)
7 breakfasts
7 nights
1 hike (2 hours)
Pick up and drop off for surf courses
1 person in private room KAPHA 960 €
2 people in private room PITTA 1.440 € (720 € per person)
During our retreat, healthy and balanced meals will be served. The food is vegetarian / vegan and includes, as far as possible, locally grown organic ingredients. In addition, there are infusions of medicinal herbs and water available throughout the day.
YOGA – SURF PACKAGE
1 anti-stress back massage (30 minutes)
1 Thai foot massage (60 minutes)
3 yoga classes (1.5 hours per session)
5 surf lessons (4 hours per session)
7 nights
1 hike (2 hours)
Pick up and drop off for surf courses
1 person in private Studio AYU 860 €
2 people in private Studio AYU € 1,240 (€ 620 per person)
Chat with us at any time, we will give you all the tips you need in real time, this is our Whatsapp number