DISCOVER SAILING WITH OUR COURSE IN FUERTEVENTURA. WINDSURFING IS ADDRESSED TO ALL THE PEOPLE WHO WANT TO KEEP TO THIS WONDERFUL DISCIPLINE
The basic course is aimed at all customers who want to try this wonderful sport, you do not need experience in water sports but a great desire to be fascinated by the charm of the old fashion windsurfing. The basic course consists of:
A practical part where you will learn the basics of windsurfing
A theoretical part where we will explain the safety rules of the wind and tide
The aim of the course is to put you in a position to be able to windsurfing independently:
During the basic course you will learn how to manage the sail and rigging techniques departure.
In the advanced course, instead, we have a deepening of practical theoretical notions, with a portion centered on the conduct of the board with the movement of the wing, and then get to the first basic maneuvers of tacking and gybing.
In our courses we use the latest materials, in excellent condition which are adapted to your skills, we also take care of the transfer from your accommodation to the spot and clearly insurance is included. The number of students is always proportional to the presence of the instructors so as to ensure maximum attention to all. The entire course takes place under the eyes of our experienced instructors, that not only help customers understand this wonderful sport safely, but are experts in giving a prompt, personal service.
Windsurfing is the oldest of the modern sea sports, it is said that the first prototype was actually built in the 50's. The innate beauty of this sport is the union between the sensations of sailing to the adrenaline rush of the surf. Fuerteventura is considered by many experts the windsurfing capital of Europe, the constant trade winds, its pleasant temperatures with its crystal clear sea, make it a paradise for the sport, which makes it the most apt place to start windsurfing. The world championships make a stop here, on the fantastic beach Sotavento in the south to be exact. Fuerteventura is full of nice places to windsurfing, from the coast calm lagoons of Cotillo, passing Flag Beach and the various citizens of Corralejo enjoy the bay of Waikiki.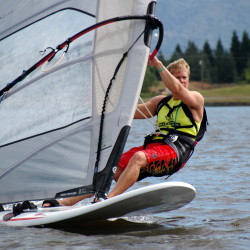 COST OF WINDSFURFING COURSES: (MAX GROUP 4 PEOPLE)
Day 1 – BEGINNER COURSE (3 HOURS)
DAY 2 – BEGINNER COURSE (6 HOURS)
DAY 3 – BEGINNER COURSE (9 HOURS)
COSTS OF INDIVIDUAL WINDSURFING COURSES
DAY 1 – INDIVIDUAL LESSON, BEGINNER OR ADVANCED COURSE (3 HOURS)
DAY 2 – INDIVIDUAL LESSON, BEGINNER OR ADVANCED COURSE (6 HOURS)
DAY 3 – INDIVIDUAL LESSON, BEGINNER OR ADVANCED COURSE (9 HOURS)